Our Shop
We are an exclusive patchwork & embroidery shop, stocking one of Australia's largest collections of top quality flannels. We also specialize in hand dyed ribbons, threads and wool for all your patchwork & embroidery needs.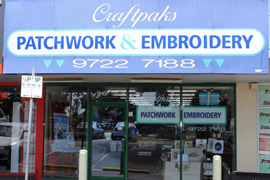 We stock Gumnut Yarns, Colour Streams, Maytime Heirlooms, Cottage Garden - all of which are produced in Australia - Appletons Wools, DMC stranded and perle cottons, and much more!

We stock a wide variety of aida cloth and linens for your cross-stitching as well as waste canvas, woollen blanketing, cashmere and Dr. Flannel for a special blanket for a new baby or one for yourself!
Location
Craftpaks
122 Canterbury Road,
Heathmont 3135
Phone 03 9722 7188
Opening Hours - Mon - Fri 9.00a.m. - 4.00p.m.
Sat 9.00a.m. - 2.00p.m.
Please note that the shop will be closed Friday and Saturday 1st & 2nd July. I am having 2 days R & R while we have a break in classes for the school holidays!
For all information about our classes and workshops see our Classes listing, and for information about what's coming up, have a look at our Newsletter.
And of course, if you're close enough to drop in to the shop - we'd love to meet you!!
Embroidery Classes
We hold weekly embroidery classes - both day and evening, and weekend workshops. To get you inspired, we have lots of samples on display - beautiful blankets, silk ribbon embroideries, thread painting, Brazilian Embroidery and Dimensional Embroidery.
There are a lot of Australiana kits and patterns available for blankets or a framed embroidery. Many of these are on display in the shop.​ Our teachers are always willing to help and inspire you!
For any embroidery supplies you're having difficulty getting, email us and we'll be only too happy to help you - whether in getting the supplies or suggesting substitutes.
Patchwork Classes
Now! If Patchwork is your passion, you've hit the jackpot! Especially if you love the soft touch of the flannel fabrics! We have hundreds!!!
​We have flannels for babies, children, girls, boys, women and men! There are florals, checks, paisleys, brights, spots, novelty, stripes - and heaps of tone on tones.
We hold weekly patchwork classes - both day and evening. Got an idea but not sure how to go about it? - Come in and have a chat to us and we'll get it underway for you!